26.11.2019
Dar Al Arkan's Silver Jubilee Celebration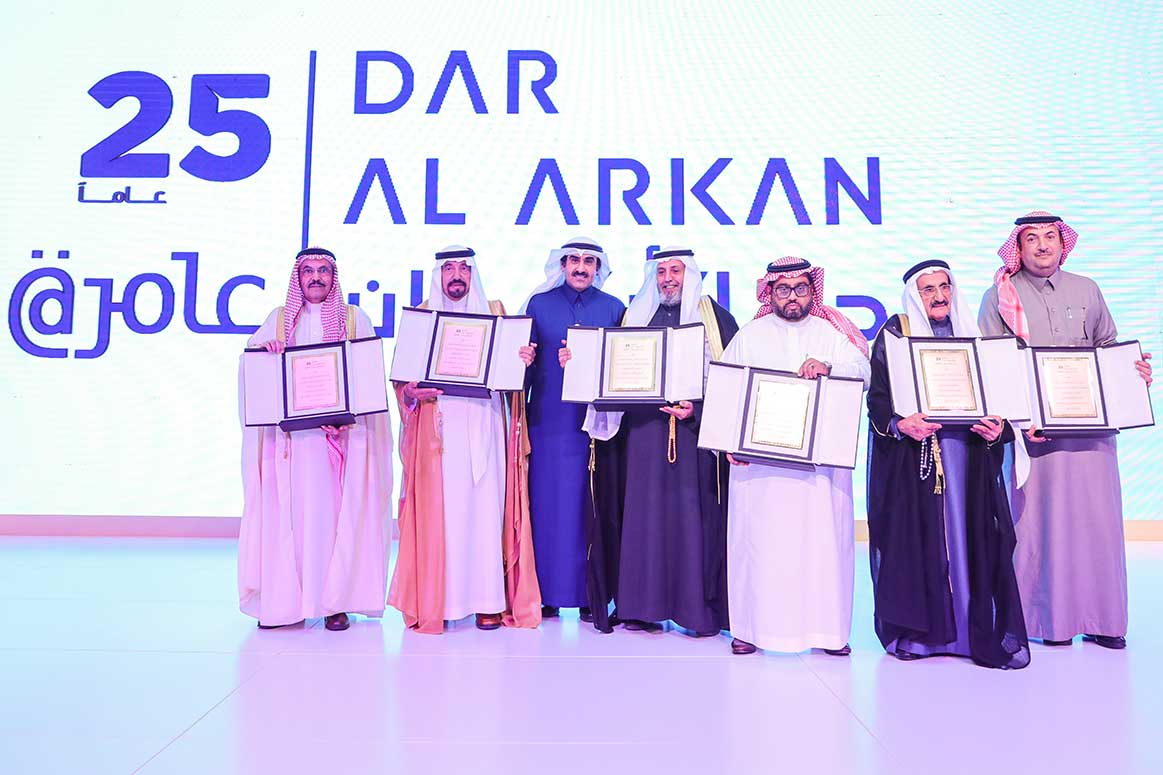 26.11.2019
Dar Al Arkan Real Estate Development Company recently celebrated its 25th anniversary with a ceremony held at Nayyara Banqueting and Conferences Centre in Riyadh in the presence of officials, businessmen, shareholders, and customers.
Yousef Bin Abdullah Al Shelash, Chairman of Dar Al Arkan Real Estate Development Company of Saudi Arabia, said in his speech: "Dar Al Arkan has been leading the development of unique real estate projects that contribute to urban development since its launch in Riyadh in 1994. The company has many world-class property developments in Riyadh, Jeddah, Mecca, Medina, and other major cities in the Kingdom of Saudi Arabia to its credit. Currently, we are implementing projects covering a combined area of 12.4 million square meters, which include Shams Al Riyadh, Shams Al Arous in Jeddah, and Juman project near Dammam. Today, Dar Al Arkan is the largest real estate company in KSA and the world, with total assets of SR 26 billion and revenues of SR 17.5 billion achieved over the past five years."
Al Shelash added: "The key focus of Dar Al Arkan's journey is to contribute to KSA's overall development, in line with Saudi Vision 2030 and under the leadership of the Custodian of the Two Holy Mosques King Salman bin Abdulaziz Al-Saud, and Crown Prince Mohammed bin Salman bin Abdulaziz Al-Saud. Dar Al Arkan will continue to work closely with the Ministry of Housing to help achieve the national government's goals. In addition, Dar Al Arkan will integrate the next-generation's needs into the real estate industry through technologies, a continuation of what we started a quarter of a century ago, is a key priority. The adoption of technological advancements will be a unique feature of Dar Al Arkan's projects and this will be reflected in various stages of development, starting from construction and project management to delivery."
The company will leverage advanced technological innovations to improve customer experience as well, Al Shelash added. For instance, the company's online portal enables property search, addresses requirements, manages investments, and gives access to the best services; smartphone applications based on customer relationship management (CRM) systems; blockchain; big data; artificial intelligence (AI); and smart home technologies equipped with security, self-maintenance, and energy efficiency systems.
"On this occasion, I would like to extend my sincere thanks and gratitude to our wise leaders for their continuous support to the business sector, which enabled us to overcome many challenges over the last 25 years. I would also like to thank our government partners, particularly the Ministry of Housing, all other relevant parties that we work with on a daily basis, and all the executives who have served on the Board of Directors for their efforts. My thanks go to the management and employees of the company for their hard work and dedication. Last, but not the least, I thank our customers and shareholders for placing their trust and confidence in the company," Al Shelash concluded.